Lost-wax Casting – Price US$40 – $70 
The lost-wax is a low cost, classic way for bulk manufacture jewelry. Basically, rubber models are made for producing the wax model. Dozens of the wax model will be put together surrounding a steel stick without contacting each other, it forms a tree-like object called wax-tree.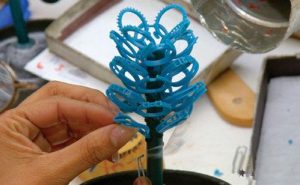 Then the wax tree is put into a container to inject gesso and finally get the metal model. more information can be found on wikipedia. Now more than 90% bulk manufacture in the world are made by lost-wax casting.
Punching – price $150 – $250
The punching method use dies to press and cut the metal.
Better for over 1000 pieces, only available for the jewelry in plate like in the following picture.
Advantage: Save cost for $0.3 – $1 per item for less craftsmanship comparing to rubber mold. As the mold is made directly by digital cutting, the edge lines of the metal plate can be very complex and clear.
Disadvantage: High mold cost.
Hydraulic Mold – price – $300 – $500
The hydraulic method uses dies to press and shape the metal. It can make the tridimensional shape like a sculpture.
Advantage: Save cost for $0.3 – $1 per item. High precision, clearer edge, and shape.
Disadvantage: High cost to make the mold/die.